Top 6 solutions to easily watermark photos on Mac
To watermark photos or not? This question is of a great concern to people if they need to publish a photo on the network. It is a common fact that while watermarking images you prevent them from being stolen or used without your permission. However, "How to create a watermark?" can perplex a person's mind. So, if you chose the first variant and decided to apply a watermark on a photo, we hope you would find this article rather informative and useful.
How to make a watermark on your photo in mere seconds
The easiest way and the most obvious is to use a special app designed to create watermarks and add them to the images. However, what kind of watermark Mac solutions to use? As nowadays there are quite a lot of them but, unfortunately, not all of them are easy to use as well as have a wide set of features. For your convenience, we have prepared the list of 6 widely used apps with the help of which you will be able to protect your photos with an ease. So, let's start.
6 best watermarking solutions for Mac
If you are looking for an answer to the question "How to watermark photos with only just a couple of clicks?" then PhotoBulk is what you have been looking for. This is a feature-rich app that works not only as a resizer, optimizer, renamer, and converter but also allows you to apply multiple watermarks. The app offers 4 types of watermark, namely: image, script, text, date stamp. Each of this type can be adjusted manually according to your wishes, also you can easily choose the desired location of your watermark and rotate it under a certain angle. Even more, PhotoBulk allows you to keep the size of the watermark proportional according to every single input image when working in bulk. The app has a very user-friendly interface with a live view mode so you can see how everything will look like before submitting the editing.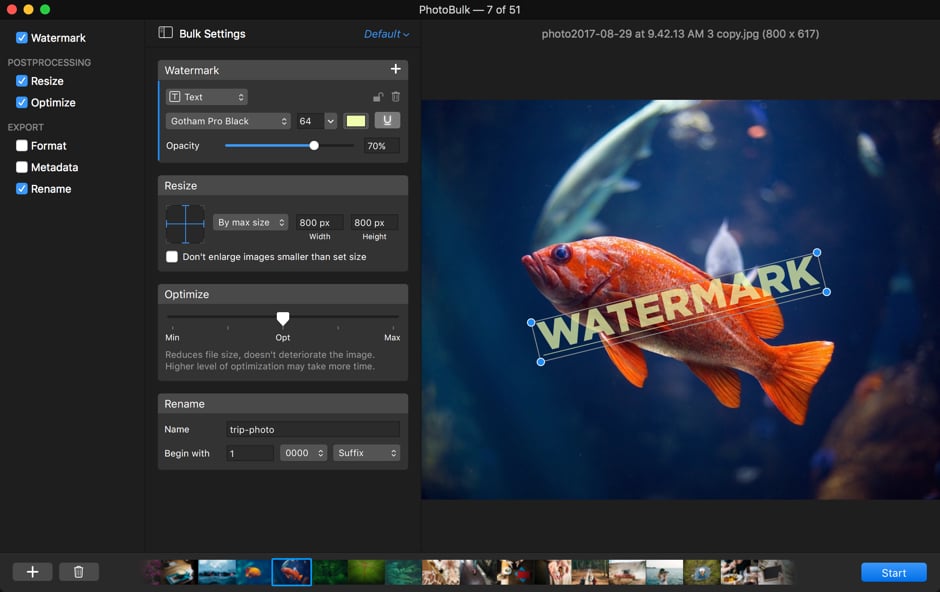 Adobe Photoshop is a multifunctional editor for working with photos and video files (raster images and several vector tools). The software perfectly works on a PC with operating systems macOS, Windows and mobile versions of iOS, Windows Phone, and Android. With the help of this photo editor, you can not only correct and retouch images, but also convert shapes, save GIF animations, use layers and effects. These functions allow you to easily transform, clone, enhance images, apply various filters to create colorful pictures. In addition, it works as an excellent watermark app for Mac allowing you to apply text and logo to the photos. However, you would need some time to get used to it and figure out how it works.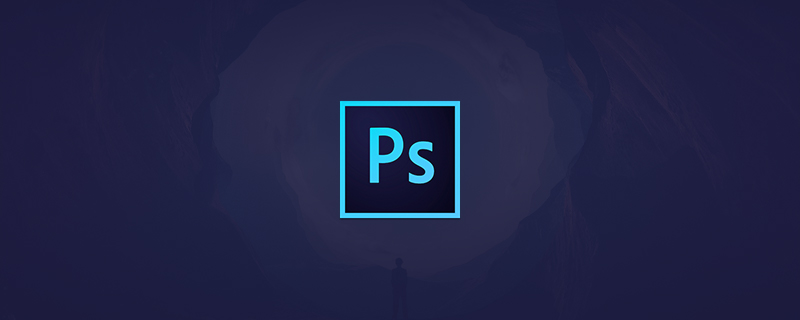 WaterMarquee is an online watermark image solution that allows you to put watermarks on a great number of images at once. With the help of this app you can specify the location of your stamp, the degree of transparency, the size, select watermark templates, select the font, color, and enter the displayed text or load your drawing for the watermark. In case, if you download many images at once, these settings will be applied to all automatically. WaterMarquee is another watermarking software Mac users would find rather useful. It is extremely easy to use. The app can work both with single images as well as with multiple images at the same time that can dramatically save your time. However, please note that you can upload only photos and drawings, no more than 1 megabyte in size. Well, it cannot be considered as a great disadvantage, as large photos are rarely used for posting on the web (in blogs or articles).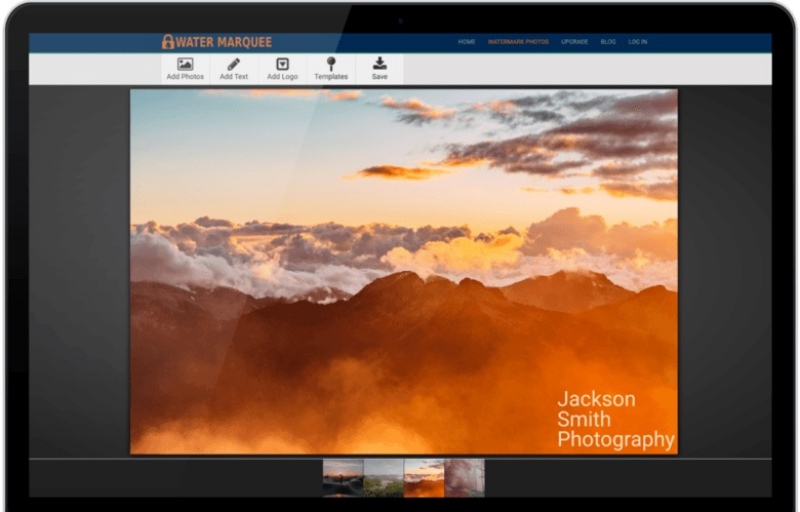 This watermark application for Mac allows you to overlay watermarks on digital images and photos. With PhotoMarks, you can customize the way watermarks will look like by resizing them, rotating them, renaming them, etc. You can save the settings to a profile and reuse them any time you like. There is the possibility of applying a watermark to several images at once. The app is very easy to use and the whole process of working with the images is implemented to the user like a wizard. So you do not have to think twice wondering how it works as editing process can be completed in a few steps. PhotoMarks is compatible with Windows and macOS operating systems as well as with iPhone & iPad.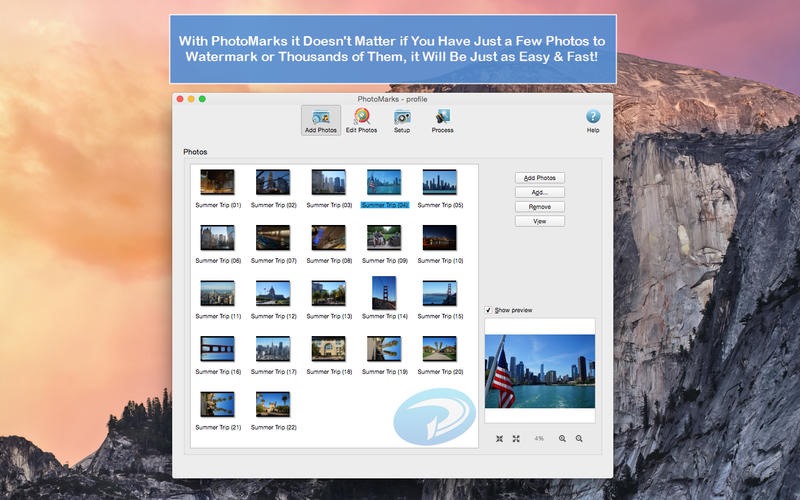 CF/X Watermark PRO
With CF/X Watermark Pro you can easily watermark your images with a text, logos, GPS data, and even QR-Codes. Besides that, the app allows to adjust all the watermarks individually and work with photos in bulk. Convert to different formats, resize (using the following setting: percent, pixel, inch, cm), rename photos in mere seconds. CF/X Watermark PRO allows you to save your watermark configurations to quickly apply them later. This watermark photos Mac solution is free of charge for everyday usage. However, if you wish to have a full set of features offered by this app, be ready to pay as the app offers in-app purchases.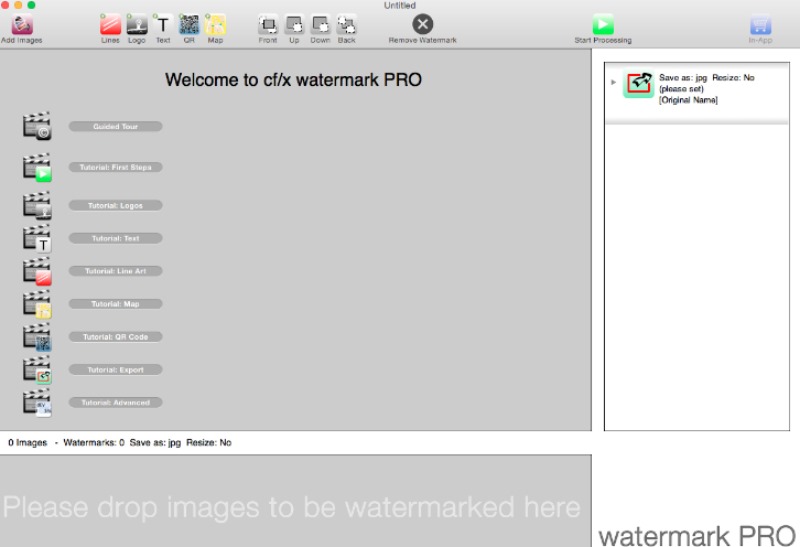 uMark is a rather powerful but still very easy-to-use watermark app for Mac designed to protect your photos by applying watermarks. The app is amazingly simple in usage and will be a cup of tea for the users with different levels of skill. Add logo, special text, the name of the company, image, special characters or even EXIF code. You can adjust opacity and transparency, as well as the position of a watermark, etc. If you wish to convert images into another format, you can do it within a couple of clicks. uMark supports most common formats of the mage. In addition, all the preferred setting can be saved for further usage.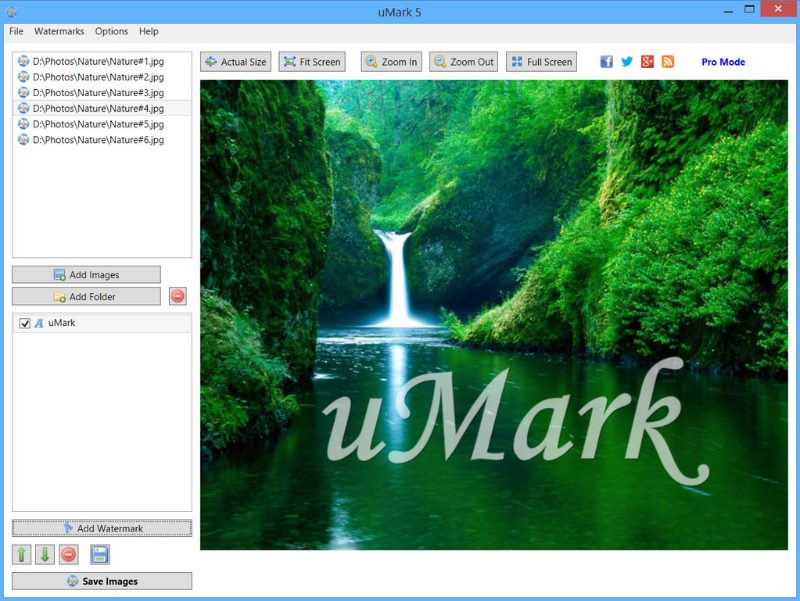 As you see, if you need to publish a photo on the network, it will not be useless to think about copy prevention and apply a watermark to the images as by doing so you protect your images from being stolen. Find your favorite watermark Mac solution and sleep tight knowing that your photos are effectively protected.
PhotoBulk
Requirements: OS X 10.10+ ,
12.62MB
free space
Version
2.2.270
(
14th Sep, 2019
)
Release notes
Category:
Utilities