PhotoBulk an efficient app for PNG to JPG conversion on Mac
The necessity to convert PNG to JPG or to any other format can arise at different stages of your life. The reason for this is that there is no one-size-fits-all format for images and each of them has its strong and weak sides, so, depending on the ways of using one or another picture can influence your choice, namely PNG to JPG or JPG to PNG or maybe GIF to JPG, etc. As we all upload images, create photos, make "memes" to share them on social networks, most of the people post images without even thinking about which format of the graphics file is suitable for the particular case. Having so many options for strong and exporting your pictures there is no wonder that you can tie yourself in knots. In our article, we will talk about the two most popular image formats and provide you with the detailed information on how to convert PNG to JPG. Do not start panicking, as this article does not apply to professionals in raster and vector graphics. It is a brief analysis in order to better understand for what purposes to use these two formats.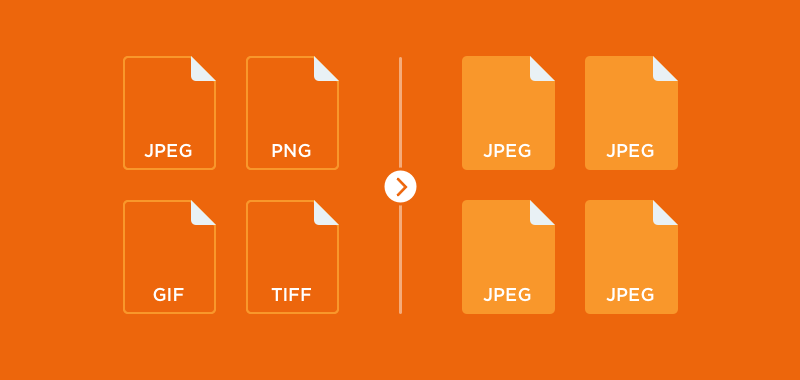 What is JPG and when to use this format
JPG was designed to compress and store full-color photos. Depending on your preference, you can use this format as "JPEG" or "JPG" as both are acceptable variants of one acronym, namely, Joint Photographic Experts Group. Despite being the property of the association of American photographers, the association itself says it is an open format.
This format has become very popular especially after the introduction of digital photography. Its main advantages are the possibility of fast, non-resource-consuming and very strong compression of full-color images. JPG allows you to flexibly adjust the degree of image compression: from 0% (strong compression) to 100% (without compression). Typically, 60% -75% is enough to significantly reduce the weight of the file, while maintaining excellent quality on most screens. In addition, JPG files "weigh" a little. They can be easily transferred from phone to phone, by email or put on the Internet. Also, a small size allows you to store a large number of images.

What kind of images should be saved in JPG format?
JPG format is best for saving photos with smooth transitions of brightness and contrast, but to save something like drawings, texts and other photos with sharp contrast transitions, it fits very badly, and in this case, you need to convert JPG to PNG.
What is PNG and when to use it?
At first, PNG was developed as an alternative to GIF at that time as no one from outside was allowed to develop it. The abbreviation PNG stands for Portable Network Graphics, and originally it was designed for using it on the web. This format of raster graphics is completely open and its description is on the site of the W3C consortium.
So what are the advantages of the format?
Full support for alpha transparency that allows you to make the image areas transparent and translucent.
An efficient compression algorithm without loss of quality. Similar to LZW, but slightly more effective.
A possibility of interlaced scanning both vertically and horizontally at the same time.
Built-in gamma correction that allows you to attach to the image the settings of its display so that on different monitors the image displayed exactly the same as on the author's screen.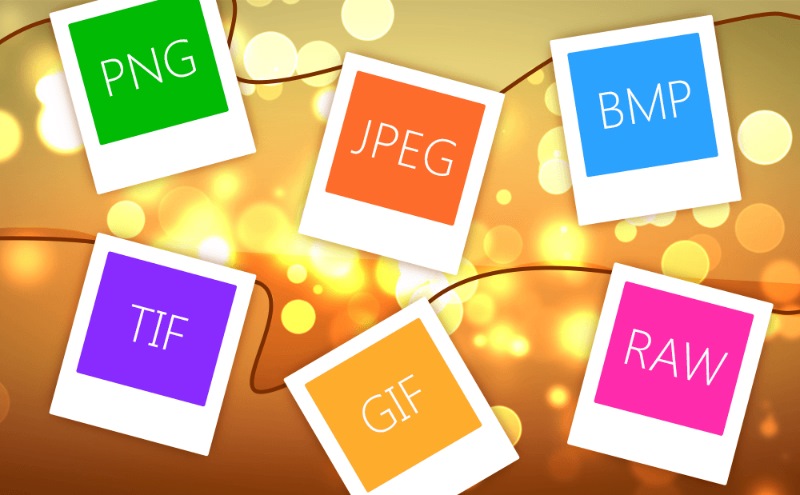 What kind of images should be saved in PNG format?
The most common for PNG format is the tasks of storing graphics information with sharp boundaries, patterned drawings, text graphics, individual graphic elements (logos, ornaments, pictograms).
The reasons to convert PNG to JPEG саn be different, but the most common is definitely restrictions of some particular sites, that doesn't allow you to upload anything else except JPG, as statistic says, the most widely used extension for pictures is the mentioned above, JPG. If you need to convert one or two PNG to JPEG images, it is not a big deal, but if you are dealing with a great number of images every day than it would be rather wise to look for and use an efficient bulk PNG to JPG converter, such as PhotoBulk by Eltima Software. The app can process hundreds of pictures within a couple of minutes that can save your precious time.
PhotoBulk supports conversion into 5 different formats, namely JPG, PNG, GIF, BMP, TIFF. However, the input formats can be widened to one more and include the highly popular format nowadays - HEIC.
Step-by-step guide on how to convert PNG to JPG
First of all, you need to download the app either from the Mac App Store or by following this link.


Once it is downloaded, install the app on your Mac machine.


After that, you need to choose the necessary number of pictures you want to convert and move it to the PhotoBulk's main window. If this option doesn't appeal to you, you can always choose another variant as the app offers a couple of them.


Then, if it is needed, apply the necessary features to the pictures and move to conversion option.


To start converting, you should make sure that the Format option is invoked in the sidebar.


With the help of the drop-down menu, choose the format for the output pictures. Note, the PhotoBulk can not only change PNG to JPG but also to one of the following: PNG; GIF; BMP; TIFF.


Once you are done with all the settings, click the Start button.


In the invoked window specify the path to save the output images.


And finally, hit the Save button.
It may seem hard, but in practice, you will not face any difficulties, as the app works smooth and fast. Convert JPG to PNG, PNG to TIFF, HEIC to JPG, etc. Besides, that complete your images with multiple watermarks and if it is necessary you can always change the size, the name of the image and use image optimizer. Try it yourself and enjoy the fast work.
PhotoBulk
Requirements: OS X 10.10+ ,
12.62MB
free space
Version
2.2.270
(
14th Sep, 2019
)
Release notes
Category:
Utilities